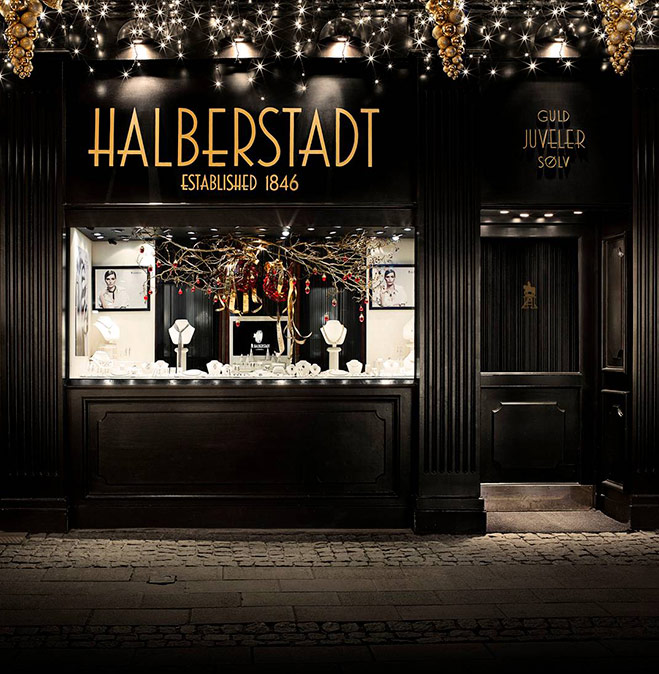 Halberstadt
"A thing of beauty is a joy for ever: Its loveliness increases; it will never pass into nothingness" – John Keats
Established in 1846, Halberstadt has been an unchanging presence on Copenhagen's most fashionable shopping street for over 160 years; now in the twenty-first century, it still retains all the fashionable elegance, classic standards of workmanship and innovative design of a bygone era. For this great capital city, Halberstadt is jewellery par excellence.
Located in the heart of the old city, Halberstadt is close to the elegant Kongens Nytorv and the Danish Royal Ballet and just around the corner from the Hotel D'Angleterre, one of the oldest luxury hotels in the world.
In the nineteenth and early twentieth centuries, the aristocratic, the fashionable and the wealthy acquired the jewellery with which they graced royal galas and gatherings of high society in Copenhagen and throughout Europe and the Americas. Now, in our more democratic age, it is available for everyone to enjoy.
To enter the store is to immediately feel the long history of discerning customers captivated by jewellery which has stood the test of time. For more than six generations, Halberstadt have been famed for design, quality craftsmanship and professionalism.
Today, Halberstadt has set as its goal the blending of traditional elements of jewellery design with contemporary design for modern lifestyles. Customers from every continent on earth pay tribute to the success of this vision.
Opening hours
Monday – Thursday 10:00 – 17:30
Friday 10:00 – 18:00
Saturday 10:00 – 15:00